Interested in getting some gunsmithing work done?

Contact us

today!
Basic Pricing List
Shop Labour:

$125/hr
Hourly rate (min):

$100/hr
Machine:

$150/hr
Scope mounting & Bore sight:

$50
Full Service cleaning:

$100
Recoil Pad install:

$60
Custom Rifle Assembly Fee:

$1250



---
Blue Printing Actions
Phase 1 - 

$125
Phase one includes checking bolt face and lug contact, then we square up and lapp.
Phase 2 - 

$225
Same as phase one, but we will cut back the receiver face square to bolt bore raceway, then square lugs up and lapp them.
Phase 3 -

$300
Phase 3 has us checking bolt face contact, as well as bolt lug contact. We'll cut the internal threads to be .010 oversize. After that we will cut back the receiver face square to the bolt bore raceway, square the lugs up and lapp them. This process is only available when installing a new barrel before it is threaded. *This is mainly applied to Remington model 700's/sevens, and older Winchester Model 70's.*
---
Barrel Flutes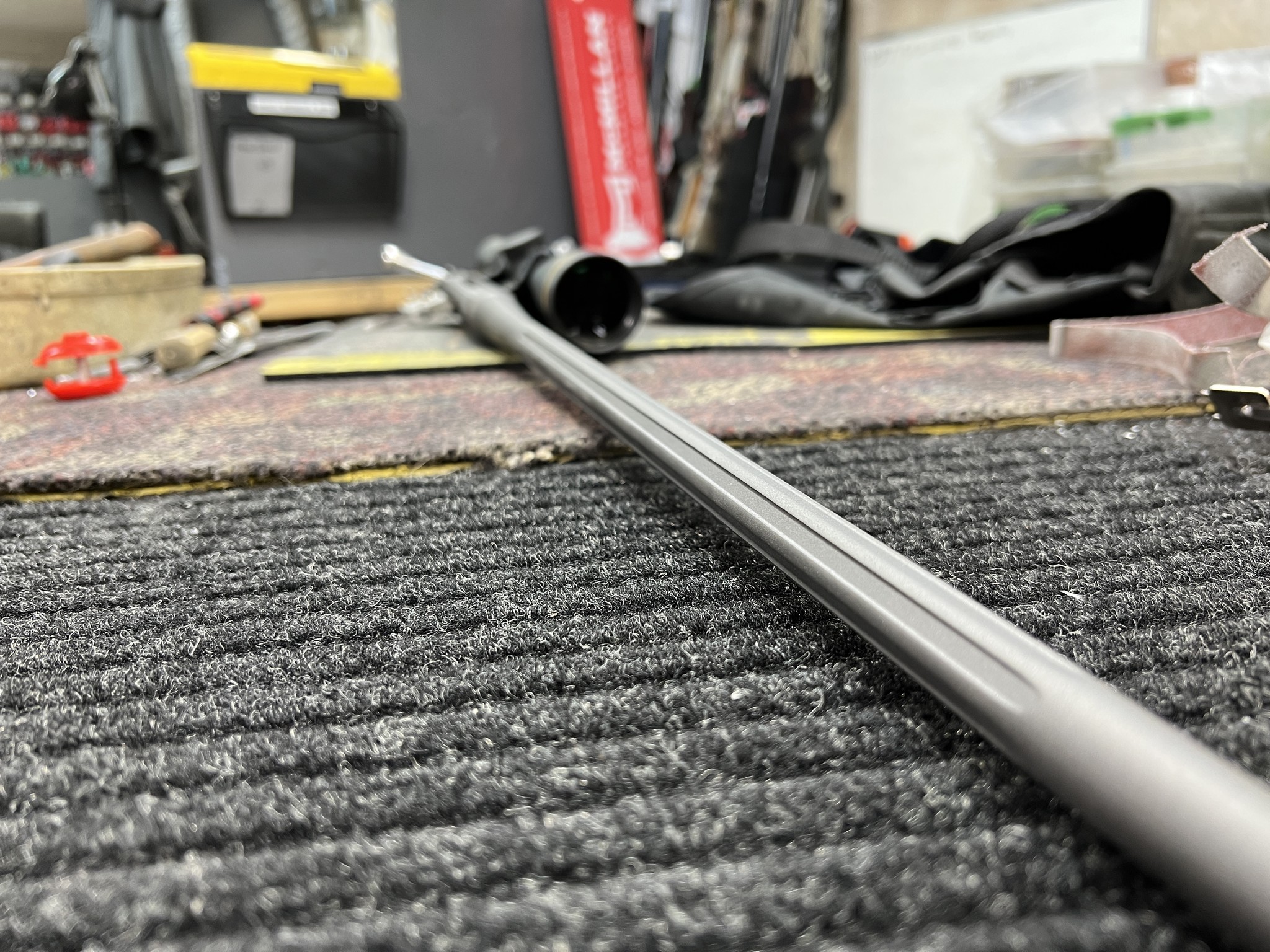 Flutes are straight, and typically have 6 grooves. Accumarking or flute colouring is also available, along with other options depending on the barrel.
Barrel Flutes:

$325
Barrel Flutes (Accumarked):

$400
---
Barrel Installation
Barrel installation includes threading the barrel, cutting the chamber, and cutting/crowning the barrel. We will also test fire to prove the chamber, and spin finish to a 320 grit metal finish if you would like metal finishes such as cerakote or bead blasting. Metal finish is not included.
Standard Install $400
Wildcat or Custom Requests $450
---
Bead Blast Finish
Removes the shine from stainless.
Barreled Action Only - $125
Complete Rifle - $200
---
Bolt Knob Installation
Machined and threaded handle with installation of bolt knob.
Includes metal refinishing back to the original, matching the bolt knob to the action.


$175

Price includes traditional bolt knob or multiple designs and options available.
---
Blueing
Traditional hot blueing in satin finish, included basic metal prep.
Heavy Rust pitts, etc will bring additional charges based on hourly rate.
Starting @ $400
---
Cerakote/Powdercoat Finish
Tough, baked on ceramic finish. Very durable, highly resistant to weathering. Several colours are available. Prices range from standard rifles (

$350

), Tikka or other small rifles (

$275

), barreled action only (

$200

) and misc. parts (

$50

).
Check out available finishes here!
---
Cut and Crown Barrel
Cut barrel to specified length and crown, or simply re-crown.
$125
---
Drill and Tap
Drill and tap for scope mounting. Most guns will require four holes for scope mounting.
$75 setup fee + $25 per hole
---
Extractor Cuts
Some barrel installations may require an extra cut to be made to accommodate extractors.
$125
---
Flute Bolt Body
=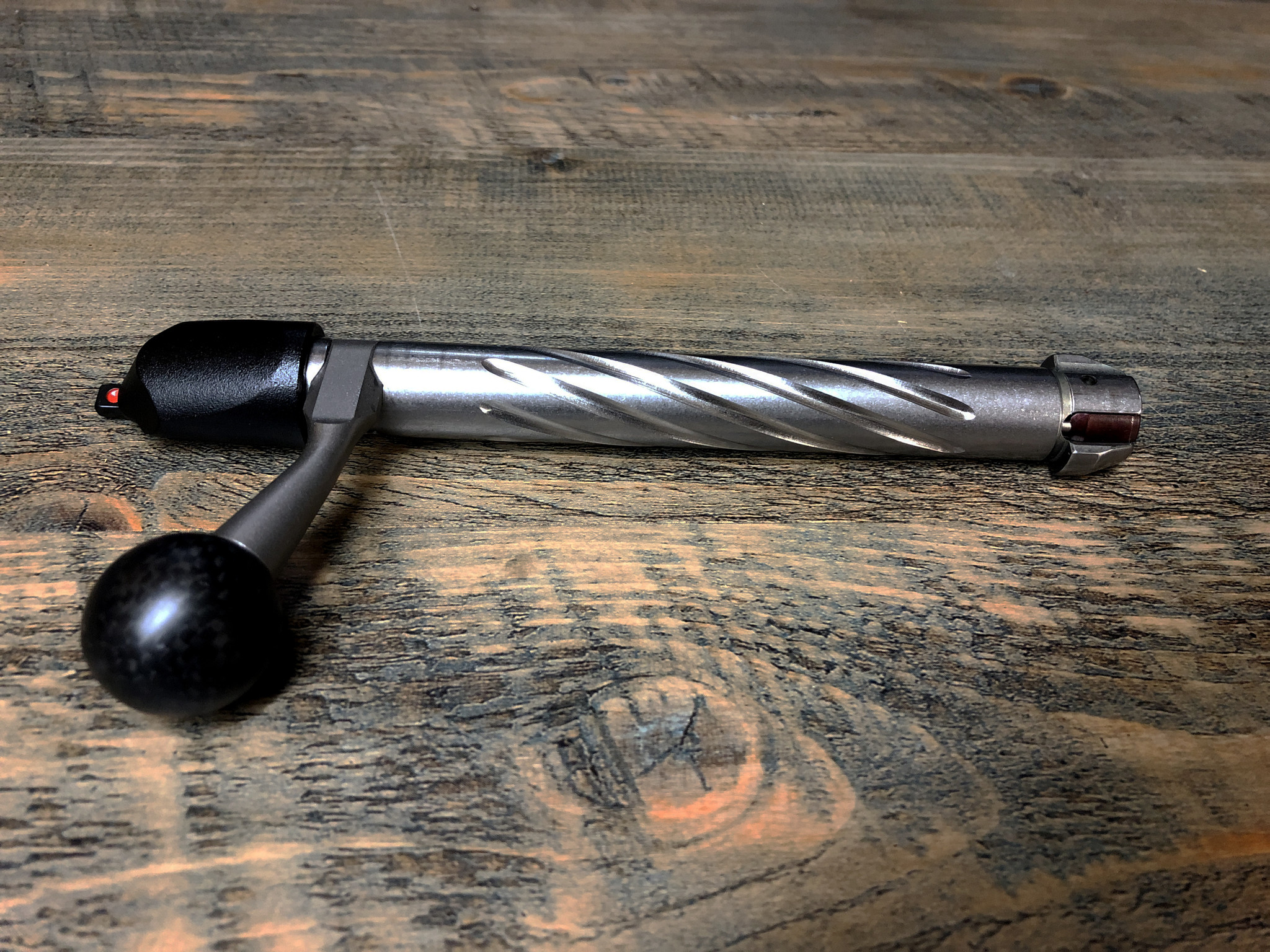 This can be done on most guns. Prices are for cutting straight flutes (

$150

) and spiral flutes (

$190

).
We can also accumark the bolt ($50

), cost is eliminated if you are doing the whole firearm.
---
Glass Bedding
Ensures point of impact reliability and repeatability when stock is removed for 

maintenance
Standard Glass bedding and Free Float of barrel -

$200
Standard Glass bedding with pillars and free float - $250

Custom Glass bedding with pillars -

$350
Includes milling machine work to inlet action and barrel channel
Common when installing new fibreglass and carbon fibre blanks with only basic inletting.
---
Range Fees
Range Fee (200yds)
The first range fee will include a general inspection of your firearm, and a standard service and clean if required. We will then create a data sheet, test out different ammos (generally at 200yds), Once we establish the most accurate ammo, we will record all data, clean your barrel, compile the data, and prepare in the info to order or produce a custom turret.
Customers are responsible for zeroing their gun, shooter to shooter point of impact varies. 
Item's not included:
Mounting/re-mounting optics
Ammo
Extreme Maintenance issues
Damaged Parts needing replaced (Rings/bases etc)
Trigger work 
Custom Turrets
($250)
---
Lapp Scope Rings
This ensures strong, solid contact between scope and mounts.
$50
---
Muzzle Brake Installation
Muzzle brakes greatly reduce recoil. All of our muzzle brake types are made out of stainless steel and will be finished to match at No additional charge
Slimline 24 hole brakes are designed for barrels under .750 in diameter and are offered in typically 1/2x28 TPI and 9/16x24 TPI
32 hole muzzle brakes are designed for barrels .700 to 1 inch and are offered in 9/16x24 and 5/8x24
3 gill sporter are designed to fit barrels from 1 inch down to .550 The minimum outside diameter is .775 and are offered in 1/2x28 9/16x24 & 5/8x24
4 Gill tactical brakes have a locking feature that eliminates timing issues making them a perfect brake to adapt to factory rifles like the Ruger Precision, the Savage long range and ultralight, Remington 700 varmint and tactical & many other factory threaded rifles. Offered in two thread patterns 9/16x24 and 5/8x24 ( These are available as a blank call or email details we will need your caliber, thread size and color and we will build it to suit) Prices are

$150

for stainless and

$175

for a Cerakote finish
Prices are for 24 hole/32 hole muzzle brakes
($250 installed)

and 3-gill sporter and tactical 4 gill muzzle brakes

($300 installed)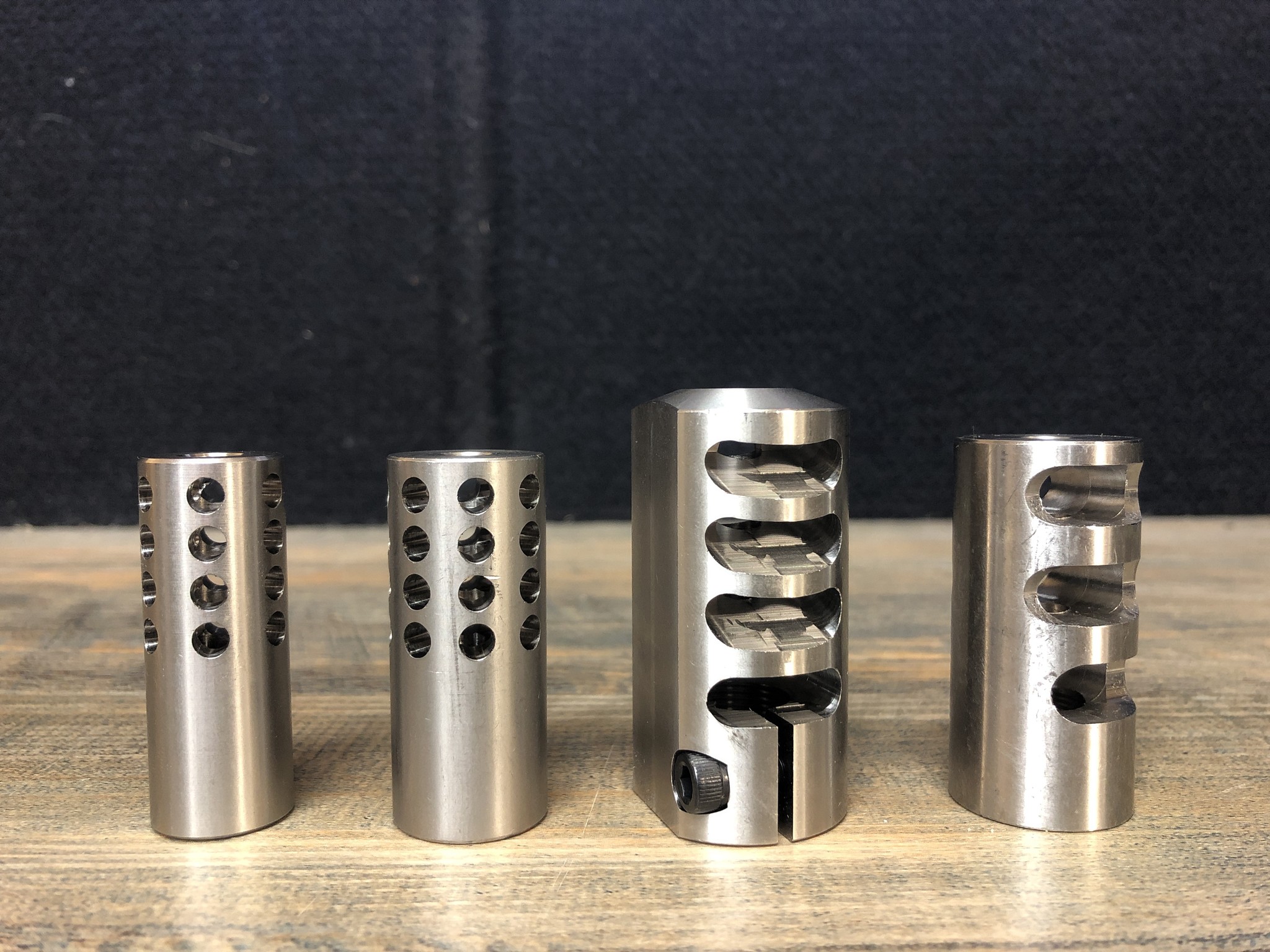 ---
Muzzle Brake Cap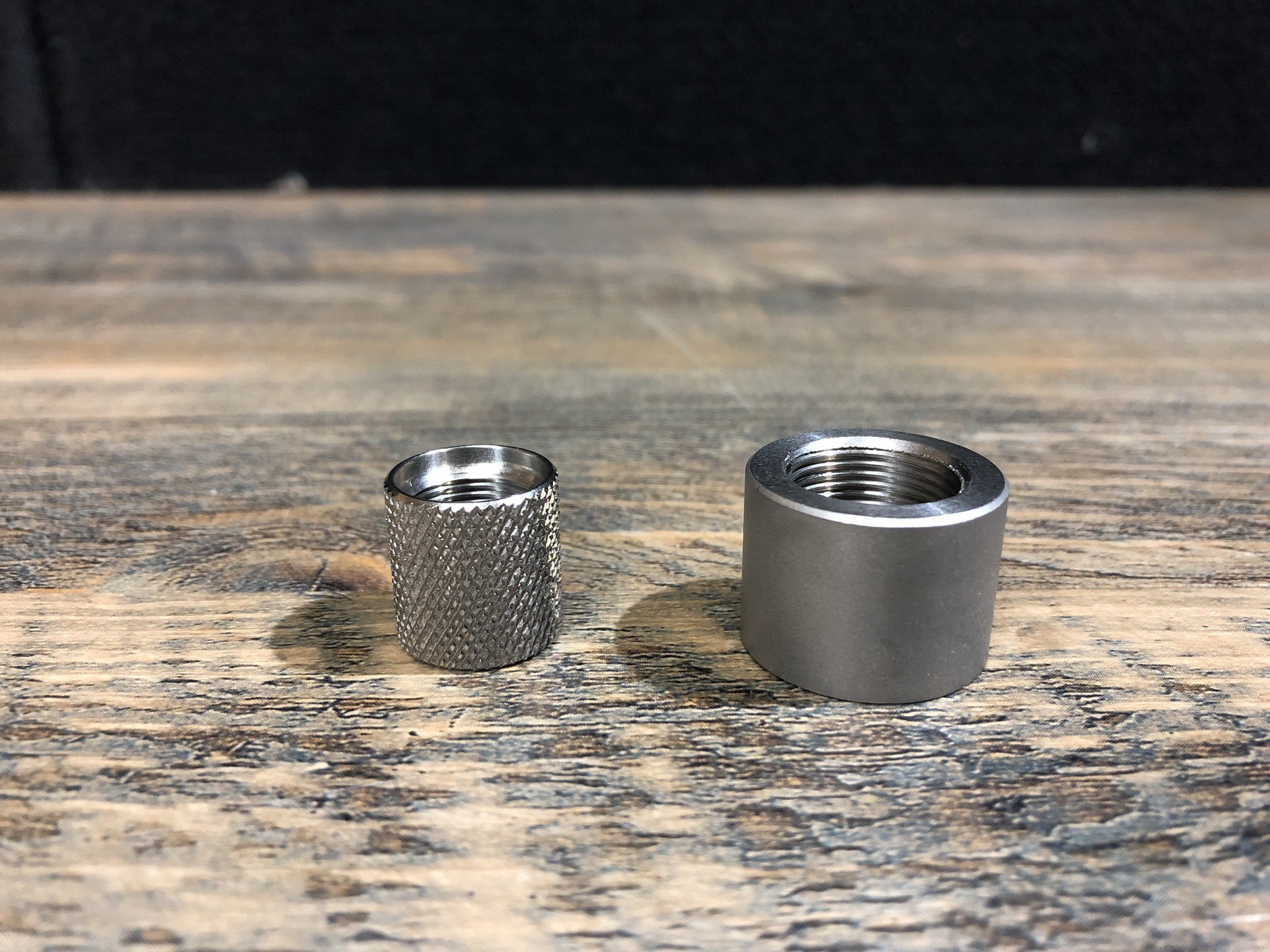 Removable, knurled cap to protect threads when muzzle brake is removed.
$50 to $75 depending on what is wanted
---
Reamers
You can find our list of available reamers here.
*Reamers are not available for purchase, only for reaming services.*
---
Rechambering
Rechambering consists of changing the existing cartridge chambering into a new cartridge that shares the same bore size. We will test fire to prove the chamber. Feeding alterations, major engraving changes, and metal refinishing are not included in the price.
Standard Calibers - 

$300
---
Sako Extractor/M16 Installation
Installation of a Sako/M16 type extractor. Price includes both parts and labour.
$250
---
Slab Action
Reduces the weight of the action by slabbing/octagonalizing the receiver.
$275
---
Skeletonize Bolt Handle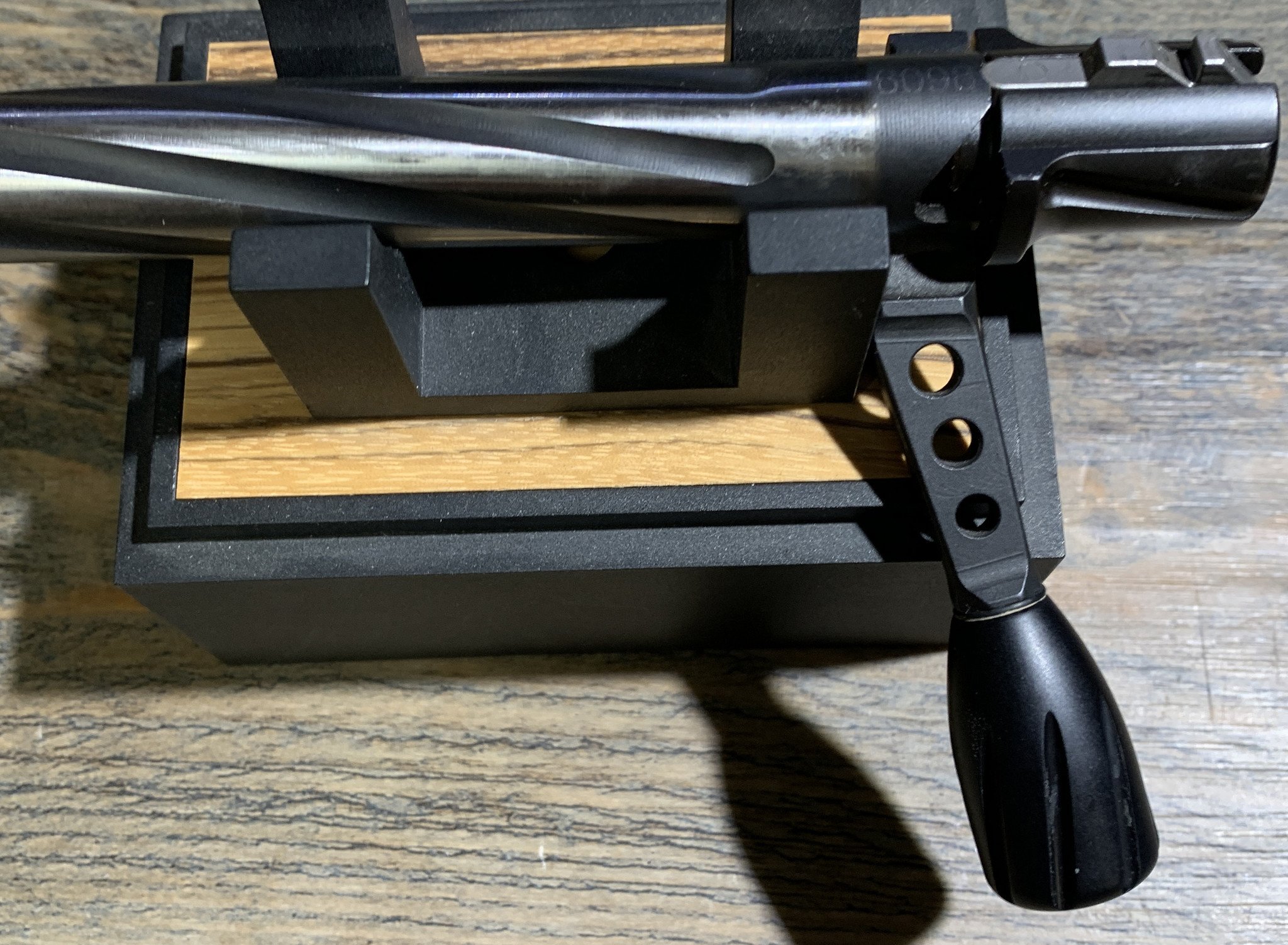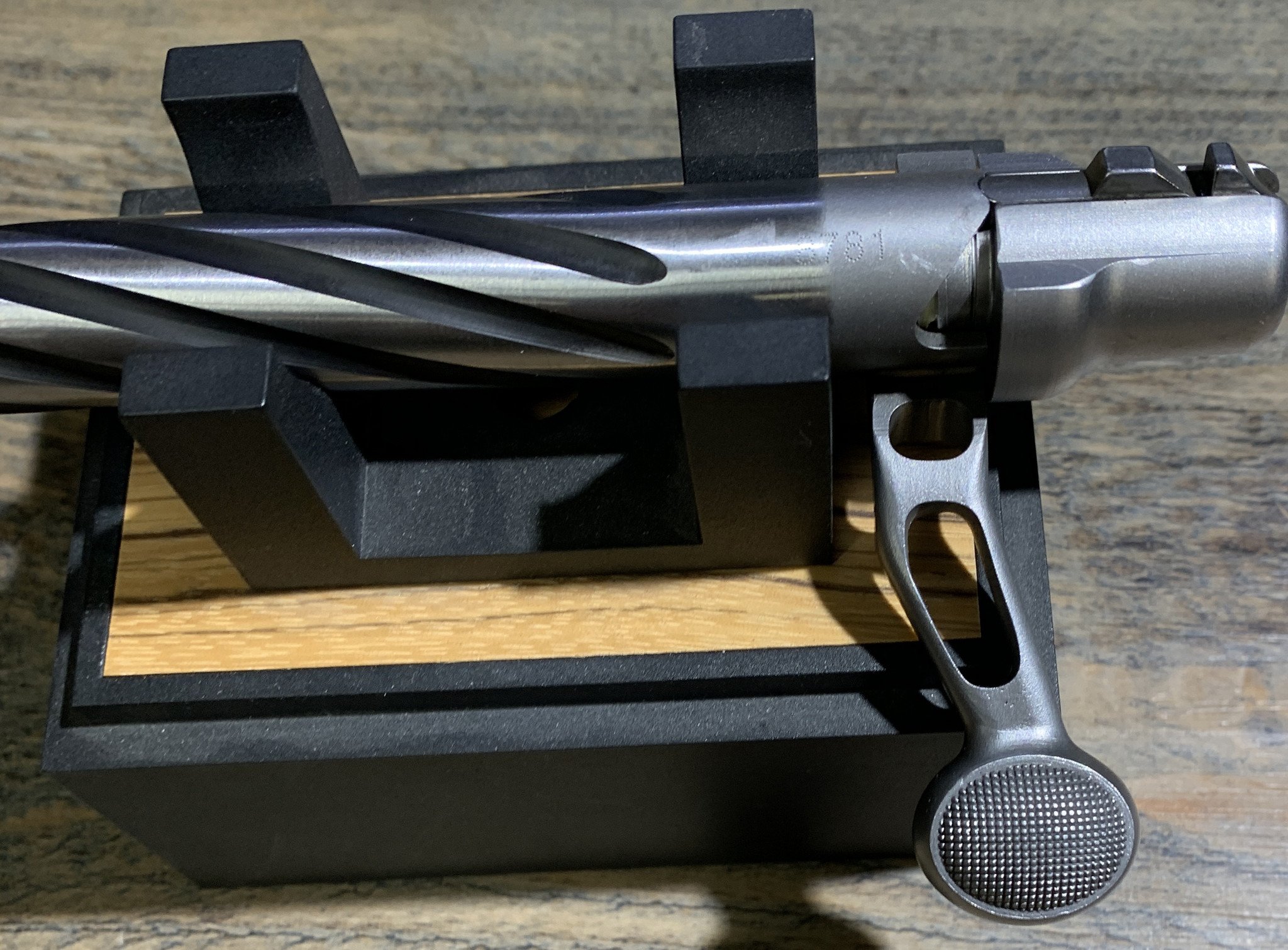 This is a weight reduction in bolt handles while minimizing the effect on their structural integrity.
$100
---
Stock Finish
Stock finishes range from standard paint (

$200

), wood stock finish (

$300+

), and custom paint camo colours (

$100

per colour, minimum charge of

$300

).
Check out available finishes here!
---